Smirnoff is a well-known brand of Vodka. It even is ​​the leader of the market. Smirnoff was born in the 1860s and was created by Piotr Arsenyevich Smirnov in Moscow. This family firm (Piotr had 5 sons of 5 different women) will experience many twists and turns. The famous recipe Vodka No. 21 (named because it was born after 20 unsuccessful trials) will make Piotr one of the richest men in Russia ! Official supplier for the Russian Tsarists, the family fled during the Bolshevik Revolution and Vladimir, the younger Smirnov, is now in sole command and must rebuild everything (distillery and tavern for his wife Valentina) in Istanbul in 1920. A lots of white Russians fled in Turkey. But the business is not really successful. Vladimir therefore took his wife and distillery under his arm and went to Nice in France. He will even Frenchified his name in Smirnoff and made trips to Poland to sell his drink.

Vodka knew a big success in Europe in the 20s. Vladimir will create a second distillery in Paris in 1925. But the 1929 crisis will force him to sell his business five years later to an American (because meanwhile Vladimir spun in the USA, new Eldorado since the end of prohibition) : Rudolph Kunett. Rudolph will also resell shortly after to a U.S. company of alcoholic beverages : Heublin. Because we are not fooled : at this time in the U.S. the anti -communism was strong and this russian beverage was then a total flop.

Smirnoff will survive thanks to two strokes of genius : the first one is that the vodka will be marketed under the name of white whiskey and the second one is that, thanks to its very neutral and pure taste, vodka will be a perfect base for a large number of cocktails !

Today, Smirnoff is part of Diageo and is the best selling drink (300 millions bottles per year) in front of rums and whiskeys ! Incredible story ! But besides the classic Smirnoff, other alcoholic vodka beverages are developed as the one I tasted for this article : Smirnoff Cinnamon with gold glitter ! Woo Woo !
                                                                                                                                             

"You must drink vodka in just two occasions : when you eat and when you don't eat" Russian Proverb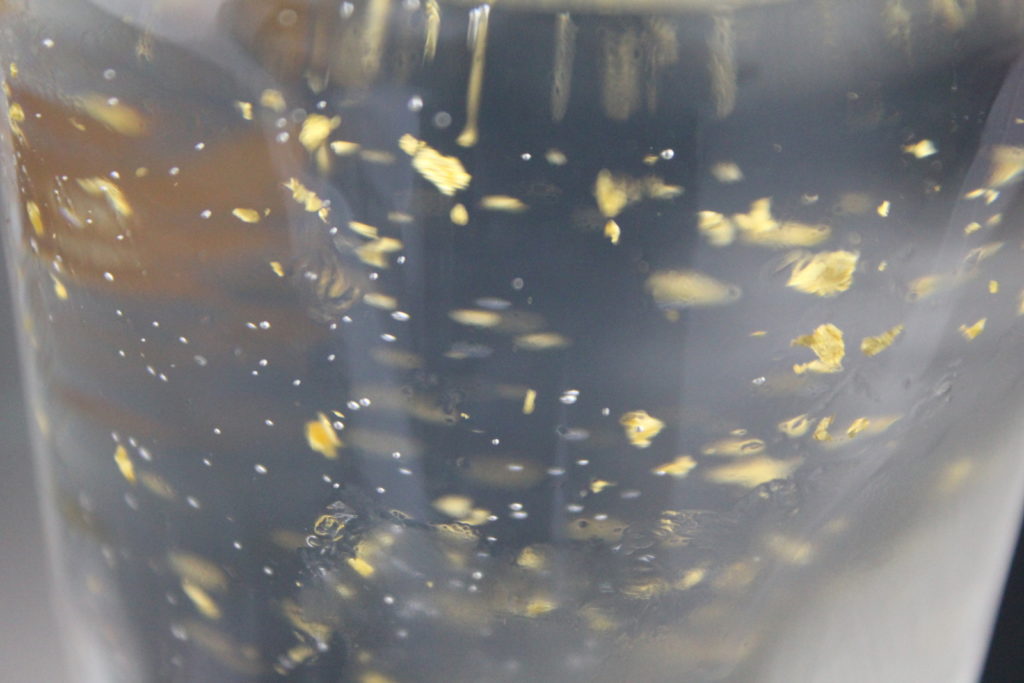 No. 21 vodka is distilled a dozen times (while only two times is necessary to get the name of Vodka) from cereals and not potatoes or grapes as other vodka. The taste is without a lot of complexity but it leaves a very smooth impression in the mouth which reduces the heat of alcohol. Bright and soft at the same time, this vodka has no impurity. It's perfect for making cocktails like the Bloody Mary !

This cinnamon vodka gold is a mixture of the famous vodka Smirnoff No. 21, natural extract of cinnamon and gold leaf 23 carat edible.First sold only in duty-free, Diageo launches this new vodka on the UK market at the same time that Apple Bite. It is a cocktail mix of the Smirnoff Cinnamon gold, lemonade and apple juice. A typical British taste (they are very fans of cinnamon right !) ! In short, it is good and it is soooo chic with small gold glitter !
The vodka is hard to enjoy because I must admit that cinnamon is very present. However, the mouth is sweet, I didn't feel under my tongue the gold flakes (it's not abrasive). Interestingly, it's still dry with a powerful alcohol but after all it is vodka. So for the purists, you can drink it on ice with a dessert – apple pie (why not !). But especially in a cocktail.