Encounters with the wines are moments which are sometimes shared with others through discussion, criticism, anecdotes, history… But human encounters around wine are also interesting and sometimes they surprise you. It's conventional to meet someone… A few words, a smile, a look … And here we go ! Seduction without ulterior motives or with, but it's up to you ! Then the wine (or beverages in general, always in moderation) in a friendly way, invite for conversation.
But professional meetings, as it's the case here, can be electroshocks. We are used to interact with strangers and they will remain strangers… Some people are a name before a voice. They are a face before a character. This can be misleading as bait by the gain, some are attracted like flies to honey… And this is a drama because the meeting, the exchange is truncated… Sometimes a person is necessarily waiting for something of the other one…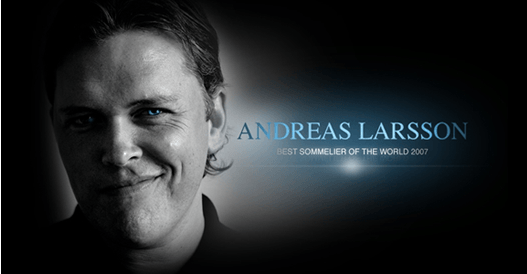 This week, I met a star of the wine world. A star, because it's a known name, a recognized face. It was the Best Sommelier of the World – BSW, in 2007. He has got a Wikipedia page, a manager (Anthony Chicheportiche, businessman and wine pro) and a minister agenda. He is what I call a Flying Sommelier (and it made him laugh when I told him because we all know the Flying Winemakers term) even if he still officiates in the PM & Vänner restaurant in Sweden. Physically, he is tall (1m95 someone told me), he is blond with blue eyes. He is a wardrobe (for his size and not his coldness) from Sweden with large hands, a bespoke suit (you see, I observe) and virtually no accent when he speaks French. He is relax and he was anything but what I expected… I admit, I thought that a BSW flies over everyone, untouchable by his excellence, elitist due to his choice of tasting . But he was not ! Thanks !!
Meeting with a BSW : Andreas Larsson.
"Any intelligent man orders a wine that appeals to women" Miguel Torres
It's true : when you think about it, a sommelier is supposed to be friendly ! He (or She for sure) needs to have a good contact (if he works in the restoration field of course). The sommelier should be professional but must also be gifted when he simply talks about wine and spirits. He must be a teacher and a listener. He is a link between kitchen and service. He is the label of the establishment !
Talented and competitors sommeliers can participate to contests : Young Sommelier and Best Sommelier of their country and then Best Sommelier of Europe (Swedish and French sommeliers are often winning this competition) before reaching the Holy Grail : The Contest of the Best Sommelier in the World (again the French sommeliers and Italians are often winners) which takes place every 3 years in general.
Andreas Larsson is one of the Best Sommelier of the World (BSW). Born in 1972, he graduated in 1990 as Head as the base he loves good food! It is then that he will discover a passion for wine and an incredible race to the top will start. Best Sommelier of Sweden in 2001, 2002, 2003 and 2005, Best Sommelier of Europe in 2004 and drum roll: BSW in 2007.
It's great that, but the meeting there? It was how? What did he say? And what's his favorite wine? But why did you meet? Where? How? When? … One question at a time!
I met Mr. Larsson Bordeaux this week in a restaurant near the Grand Theatre where he inaugurated a new concept created in partnership with his manager Anthony "Andreas Corner." This is a map of Bordeaux wines selected by Andreas for restaurateurs. But beware, it is not wine at 150 euros! No, this is an accessible map! For this inauguration, 90 wines from Spain, Italy, Austria, Greece, Corsica waiting for us in tasting with a small plate of pork!
Mr. Larsson came to see us, my friend and wine lover me … We started talking … Know Andreas taste about 350 wines per week (but beware, it spits!) And 12 years (! ) but the weekend when he starts in the kitchen, then it is fun!
– But tell us, Andreas, what is the most incredible wine country level *?
– The France of course, (I remind you that it is Swedish so no chauvinism can!) Because of its incredible diversity as wine, so many different lands on a small area! In short, France wine is synonymous with wealth!
– But tell us, Andreas, when you cook at home on the weekend, what do you drink wine?
– For the red, rather Burgundy, Bordeaux and Barolo also! For white and Austrian grape variety Grüner Vetliner! But I always chilled champagne! Oh yes, the Champagne is my guilty pleasure!
– But tell us, Andreas, how did you become BSW?
– At first I studied cooking because I like to eat and I still love to cook. Then I discovered the wine and it was a no brainer! The food and wine, the perfect combination. Thus I became a sommelier.
– Thank you, Mr. Larsson coming to see us to discuss a little!
– Thank you and good evening! But wait, try this wine!
* This form of interview is not an exact transcript of the terms of Andreas Larsson because it was a free-flowing discussion!
The evening went very well: we made a small detour with my friend in the hills of Bordeaux at the Hotel Saint James for an opening. It was a pleasure to meet a BSW and now we know why this man has the reputation it has: open, friendly, and professional educator.