There are some moments that we want to immortalize. A good news! A promotion! An achievement! A proposal ! A birth! Christmas! A birthday! There are so many occasions to taste and appreciate a special wine… So, why not bubbles ?
If there is a wine that we consider better than others, it's the Champagne… Champagne is to wine what 'Haute Couture ' (fashion design) is to fashion… People can think what they want, this wine is apart in the gourmets' heart. The Champagne is also one of the only wine to titillate the four senses. Which adds an unbelievable charm… So we rave about his gold color, we stay attentive to the bubbles trains, we listen with passion the splatter of these bubbles when they are reaching the top, we watch the fine foam which seems to be a raft… Then we taste this wine which has special flavors… I'm inviting you to enter in this incredible bubbles world !
"Champagne helps to amaze" George Sand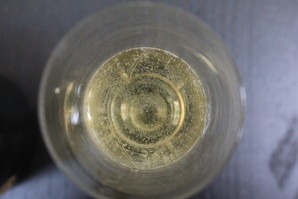 At Louis XIV Court, a "bubbles wine" is really trendy! Dom Ruinart, a friar, who was born in the Champagne region, is watching the scene and transmits it to his brother and his nephew who are sheet merchants. 20 years later, after his uncle's death, Nicolas Ruinart is creating in 1729 the first Maison of Champagne ever : the Maison Ruinart. The production is very small at the beginning : 170 bottles in 1730… And will increase progressively: 3000 bottles in 1731, 36000 bottles in 1761. Nicolas Ruinart will give up it's sheet merchant activity to sell Champagne. He will be right because, centuries later, his Maison Ruinart will enter LVMH Group in 1963: this is a big proof of quality !
Chardonnay is the signature of Ruinart. From the Côte des Blancs and from the Reims Mount, this type of grapes adds freshness in the mouth, aromatic freshness and finesse. To become a Champagne, the bubbles wine has to rest in a cathedral : the Crayères. At 30 meters under earth, the production is autolysing. 3 floors and 8 kms of tunnel have to be wandered in order to discover the secret treasure which is hiding in. Moreover, you have to wait for 3 years to taste a non-vintage Champagne and between 9 to 10 years for Dom Ruinart.
The Maison has several types of Champagne : R of Ruinart, Blanc de Blanc, Rosé, Vintage, Dom Ruinart and Dom Ruinart Rosé.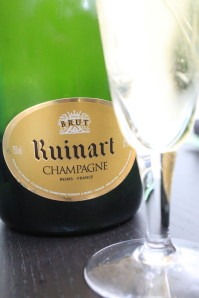 For the occasion, I tasted a R of Ruinart which is considered as the first expression of Ruinart Champagne. For sure, I drank it with friends… But I kept a little bit to do a 'real' tasting… Here is what I remembered…
– R de Ruinart, First Expression of Ruinart Champagne (40% of Chardonnay, 50 to 55% of Pinot Noir and 5 to 10% of Pinot Meunier).
The color is light yellow with gold reflects, the bubbles trains are numerous and are creating a homogeneous foam at the top. The nose is refined and fruity with pear and dry fruits smells like almond. Notes of brioche are mixing with white flowers touches. The mouth is fresh, smooth and fruity with peach, greengage plum and nectarine flavors. The bubbles are nice and bring a beautiful structure and balance. A nice Champagne, classical with brioche aromas but also complex. Well, a nice Champagne like we love it!
You have to count average 35 euros the bottle. And drink it fresh.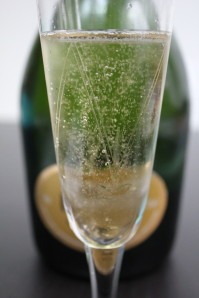 Champagne Ruinart
4, rue des Crayères
51100 Reims