Yquem? Again? Yes, I think I'm totally addicted! This week end (Saturday the 15th and Sunday the 16th), it was the Bordeaux Tasting which was organized by the magazine Terre de Vins, Place de la Bourse in Bordeaux (for sure). The rain was here and so I was. I came at 11 am and I left at 6 pm!! Nice names were present like Cos d'Estournel, Gruaud Larose, L'Olivier, Carbonnieux… But they were also nice people like Bernard Magrez who was introducing his wines.
Nice place, exceptional wines (more or less good during the tasting, I had some bad surprises !) but especially Master Class: "1982 Vintage, the myth has got 30 years old", "Special Château L'Angélus", "2009: graded 100/100 by Parker". All were really interesting but only one made me shiver: "Special Château D'Yquem". Like a lucky bag, this title sound a little bit hazy. But it's the rules of a lucky bag, no? The tasting was realized by Gérard Brasset, World Best Sommelier 2010, (they are elected each 4 years, so they are not so numerous !) and with Pierre Lurton in person, the Director of Château d'Yquem and of Cheval Blanc! A tasting? But a tasting of what? Well, Y d'Yquem 2011 (the dry white wine) and then a little vertical of Yquem's best vintages : 2005, 2001, 1997 and 1990. Banco, I jumped at the opportunity… I relieved of 150 euros, the rendez-vous was taken.
"Don't simplify this world of complexities" Pierre Lurton to his team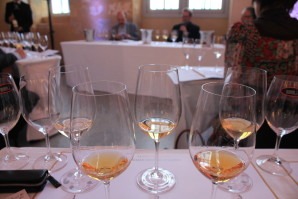 I settled down in this little room where 25 privileged people were longing to assist to this Master Class. Then Pierre Lurton entered, slim in his black velvet jacket with a Mao collar, he seemed to be nice and accessible. Strong handshake, little words for everybody and the Master Class will begin. The speech is clear, genuine and well-oiled but it's a pleasure to listen to Pierre Lurton. His voice is serene, the body movements are like the ones of a conductor… Am I charmed by this figure? Well I think so! But I find the speech of a passionated man who has an amazing path, so inevitably I'm connected !
The Château D'Yquem is also 'drinkability' and freshness. Exit sucrosity, we are searching for lightness. Pierre Lurton, a sailing boat fan, said that he is at the head of a sailboat, the shell is beautiful, the look is real, the mainsail is bowed by the wind but this is not enough to win the race! In fact, the team is what is the most important as the strategy. Usually, Pierre Lurton tells to his teams not to simplify the Sauternes complexity.
Y D'Yquem, it's the meeting I was expecting the most. Between 8 000 to 10 000 bottles are produced each year. This wine is also synonymous of rarity. Since 15 years, a harvest is done on the best lots in order to get the perfect maturity grapes and without Botrytis. The blending is 60% Sauvignon Blanc (we recognize some terpene flavors) and 40% Semillon. Y is a Bordeaux dry white wine (7 or 8 g of residual sugar tho).
Y d'Yquem, 2011 (60% Sauvignon Blanc and 40% Sémillon).
Difficult to describe the color of this wine… Green with silver reflects, unique with nice drops. The first nose is lightly woody but also smoky. Freshness and minerality are present with green grapefruit, white peach and apricot… A little spicy touch like ginger is present. The second nose is powerful, still spicy and allows to recognize botrytized notes of candied fruits like angelical, pineapple and apricot. Then, the tasting is fresh and with a nice acidity. The woody and the smoky are melting with lemon and grapefruit. Well balanced, the wine is ending with a nice mineral and flowery finish. Very long and delicate, the Corinthe grape flavors are coming from nowhere ! Surprising and unique… This is a nice dry wine.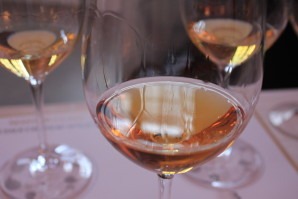 2005 is an exceptional vintage : the driest since 1877. The harvests in the Château began on the 19th of September and stopped on the 28th of October. Pierre Lurton told us that this year was intense… But 'the nicest stress is the hydric one' !
Château d'Yquem, 2005 (13,3% of alcohol, 141g residual sugar and 3,6 total acidity).
The robe is gold and clear, deep with a nice intensity… and has very nice drops…of joy ! The first nose is aromatic, a little bit minty with notes of green prune, mango, amaretto biscuit and caramelized pear. The honey is also here ! This nose has got a content power. The second nose is very powerful with a little bit of beeswax, candied mango and pine honey. The tasting is fresh and extremely nice. Flavors of sandalwood and mango are mixing together : exotism is on top. Candied orange and cloves are appearing. Very smooth and soft… A promise is a promise : the Château d'Yquem are synonymous of complexity. The finale reminds me plum brandy and cocoa… Very long, it lasts nicely on dried fruits.
Here is the time of an exciting tasting : the tasting of Château d'Yquem 2001… The famous vintage, the perfect year of a violent concentration with an amazing climatology. For this vintage, Robert Parker gave his maximum grade : 100/100.
Château D'Yquem, 2001 (13,6% of alcohol, 150g residual sugar and 4,55 total acidity).
With a deeper gold than the 2005, the robe has got orange reflects and drops (still of joy) deep and thick. The first nose has got flavors of candied mandarin. We can feel the power of this wine and roasted exotic fruits like pineapple and mango are present. There is still this mint side which allows a nice freshness. Honey is here also. The second nose is very fresh, strong with mandarin notes, orange and mango. The tasting has got saffron and orange. With a nice acidity, the Corinthe grapes are a nice marriage with dry apricot… The pink grapefruit is part of the party with sandalwood. Very nice, very impressive, the finale is fresh with dry apricot and fruit jelly notes.
1997 is a difficult year : it's the year of the death of Princess Diana but also of Mother Teresa and Captain Cousteau… The years with a 7 know a very hard climate near the Indian Summer. Little anecdote: the harvests are lasting 2 months and there were seven harvests cadenced with the pulsations induced by the potential alcohol. In fact, the first morning, the winemaker has entered in her cellars golden berries with a very low alcohol potential: she changed the goal and asked to harvests roasted berries. In the afternoon, the berries coming in the cellar have too much alcohol !! So one more time, the goal has been changed : the pickers have to choose inbetween grappes. This is an example of what is a harvest pulsation.
Château d'Yquem, 1997 (13,5% of alcohol, 140g residual sugar and 4,2 total acidity).
This 1997 begins to be orange… So we are going to say that the wonderful robe is gold with delicate orange reflects. Intense and sunny, the fine drops are still falling down in the glass. The first nose seems to be closed! Oh no!! I will say (with the confirmation of Gérard Brasset and Pierre Lurton) that this Château D'Yquem 1997 is "in the trough of the wave". We should wait a little bit so it will be on the top of the wave, well, of the tsunami, the size is proportional to our waiting. But even discreet, the nose has flowerly notes and candied watermelon, blond tobacco and licorice. The second nose is a little bit more open but is still delicate. Fresh on blond tobacco, candied orange, quince and mandarin. The tasting has got a nice acidity, spicy with saffron touches. Notes of fruits jarred like pear, lemon or candied orange. Smooth and straight, the mouth is seductive. We can also feel a diminution of the sucrosity. The finish appears on dry apricot, long and always delicate.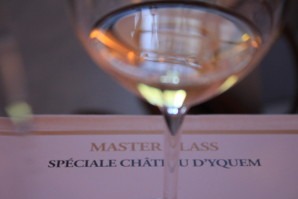 Then, here is the time of the last glass… And not the least because it is the Château D'Yquem 1990. Pierre Lurton explained us that he is at the head of Château Cheval Blanc since 1991 after he left Clos Fourtet. Little funny anecdote : the owners of Cheval Blanc at this time (the Family Fourcaud-Laussac) said to Pierre Lurton that he had to change his last name… They were scared because people can confuse and think that the Château is owned by the famous Lurton Family… So maybe he could choose the last name of his mother. Then I imagine Pierre Lurton, with a little smile, when he said : "That will also be a problem… Mother's last name is Lafitte" !! So finally, Pierre Lurton kept his last name. Anyway, you can read about the Lurton family's history on this website.
Château d'Yquem, 1990.
The robe is topaz, intense and shiny with caramel reflects… The drops seem to be heavy and slow. The first nose is very powerful with a present alcohol which disappears progressively. With flavors of dried flowers, tobacco (cigars box), caramel pear and smoked mushroom, this nose reminds me of Cognac or Chartreuse also. The second nose is still on pear notes but also flambéed banana and orange caramel. Complex and straight, spicies like cinnamon are finishing this nice nose. The tasting is fresh and slightly acid. This is like old Sauternes : a little bit mushroom, a little bit undergrowth, a little bit candied orange, candied lemon and quince. We also feel a lost of sucrosity. Long and delicate, the mouth is ample and finishes on a salty note with Corinthe grapes. The very finish is mint and the freshness is very enjoyable. A beautiful wine, delicate and powerful… An old Sauternes that I will probably drink in front of a nice crackling fireplace during this winter season !
For the end of the year 2012, I wanted to finish on a sugary exceptional touch. I would like to wish you a very happy and nice year 2013… I hope it will be full of œnological discoveries, tastings and extraordinary bottles !