Because this week end in Bordeaux it was the Salon du Chocolat, I thought about you… Last year, as a faithful cocoa lover, I roamed the paths… You could followed me easily because I was drooling over the stalls. But besides the chocolate fountains and squares, I smelt some wine in the air… Sharp nose, I discovered a chocolate curiosity which passed by the wine-making process. A chocolate wine ! So this year when I went back in the American Indian fragrances, I had an only one idea in my cocoa-pod : to re-taste this drink mixing theobromine, the substance responsible of the chocolate effects on our mood, and antioxidants.
"Life is like a box of chocolates, you never know what you're gonna get"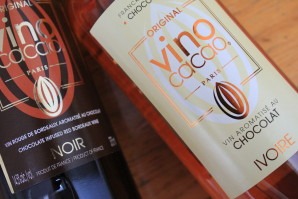 Franck Maupouet, chocolate maker and wine maker's son, had got an extravagant idea : mixing his know-how to his father's one, alliance of two products with strong identities. In 2006, Vino Cacao®is born and for our pleasure, three products (for the moment) have been concocted : a red wine Noir™, a white wine Ivoire™ and a Cognac Excellence. Wines are available in 37,5cl or 75cl and these are fortified wines of Bordeaux appellation with a blend of Merlot & Cabernet Franc for the red and a blend of Sauvignon Blanc & Semillon for the white wine. The chocolate is coming from West Africa and on the sticker you can read Dark Chocolate 100% cocoa butter.
Franck Maupouet considers his wines as ingredients : there are a part of your lunch or diner… With chocolate or coffee deserts, with exotic fruits but also as aperitif, with a Foie Gras, games (for the red wine), oriental cuisine (for the white wine) and cheeses. Finally, these wines are almost like other wines… Pleasure is here anyway.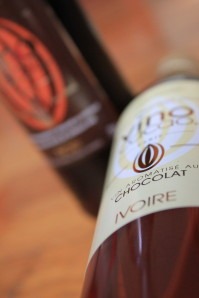 – Vino Cacao® Noir™, Red Bordeaux 2011 (Merlot and Cabernet Franc).
The color is nice : ruby with chocolate reflects (isn't it ?). The nose is interesting… We smell perfectly fruits, especially cherry. But there is also cocoa touches. It reminds me some Port. The mouth is fresh and the blend between chocolate and fruits is well-done. The finish has got a little bit of bitter but it's not annoying. Nice wine and the website of Vino Cacao is teaching us that we can keep this wine 10 years in our cellar !
– Vino Cacao® Ivoire™, Sweet white Bordeaux 2011 (Sauvignon Blanc and Semillon).
Nice gold clear and limpid. The first nose is full of chocolate crisps and is melting with peach and apricot notes. The second nose is more complex and confirms the cocoa. The tasting is fresh, wide and nice. Chocolate is very strong but let flowers touches appears. The finish is nice.