New article about a new interesting topic… Famous wines in famous movies… I'm still passionated by wines, don't worry, but like the article about Messages in Bottles, I wanted to discover the wine world globally. For sure, a new article about a Château will be posted soon ! But well, this article's idea came from when I visited Château L'Angélus last year. Our guide told us that it was James Bond wines ! When he said that, I smiled… But today I wanted to know more about it : which are the bottles stars ? What is the business behind ?
So let's go to Hollywood to learn more !
---
"Cinema, it's modern writing whose ink is light" Jean Cocteau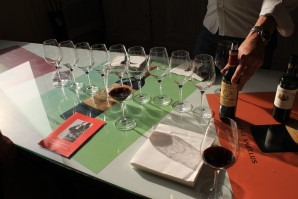 One expression which means anything and everything : 'product placement' ! But what is it ? Well it's business and marketing. In France, legislation with the Evin Law (1991) doesn't allow agreement between an alcohol brand and a film director. It's easy to understand : the Evin law forbids to an alcohol producer to pay for its alcohol to be on screen. Moreover, the CSA (French broadcasting regulatory body which is the IBA in UK and FCC in the US) supervises the broadcasting and has the right to cut a scene if there is alcohol, tobacco or drugs. But the CSA can't destroy the intellectual creation process : for example in the movie 'Saving Private Ryan' there is a static shot on an advertising with a Suze bottle on a wall. This scene participates to the artistic plot, so it hasn't been cut.
Otherwise, it exists a 'Gentlemen's Agreement' : an alcohol producer can offer some bottles and maybe, in return, the movie maker will use one for its movie. But it's at its own risks because the bottles can be drank only backstage. Abroad, the Evin Law is not existing : producers can pay movie makers to screen their alcohol. In France, it's always different…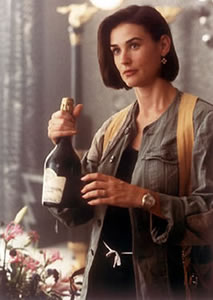 Champagne and wine haven't gave up screen after the Evin Law (in France, I mean). Champagne is really the alcohol the most seen in movies : it represents party but also sophistication. It's the major beverage for a wedding, seduction or party scenes. The wine is more difficult to place… But it shook up the trends : in the US, it is common to drink wine as aperitive… This was seldom in France, but now it's a normal behavior almost everywhere.
Here is a little selection of movies from France and abroad where Champagne or wines are guest stars… You can drink it as much as you want !
Champagne
– The french movie Christine in 1958 with famous actor Alain Delon and Micheline Presle drinking Veuve Clicquot.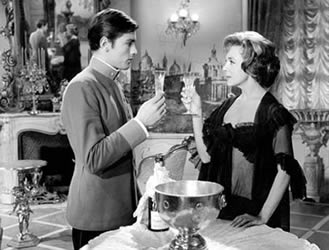 – The movie Ariane in 1957 with Gary Cooper and Audrey Hepburn tasting some Moët&Chandon.
– The french movie Dernier Metro in 1980 of Truffaut shows Taittinger.
– Since 1973, James Bond drinks Champagne Bollinger (before it was Dom Pérignon, but Bollinger is the Maison de Champagne supplier of the Royal Palace so they returned to basics) : after spending 14 months in a Corean jail, James Bond asked for a glass of Bollinger in Die another day ; in Golden Eyes, 007 took out a bottle of Bollinger Vintage 1988 with two glasses of his Aston Martin steering wheel. Here you can watch a video of a Bollinger editing.
– Thanks to the movie Top Gun with Tom Cruise drinking Taittinger : the sells of this Champagne raised of 150 000 dollars in 1986 in the USA.
– The french movie Jet Set in 2000 with characters splashing in the swimming pool with Piper-Heidsieck.
– The Tsarine of Chanoine appears in a lot of french movies like Chouchou or Podium.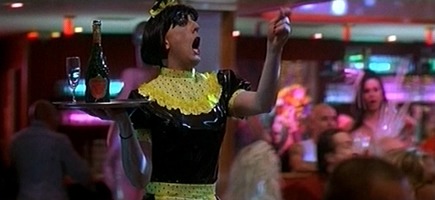 – The movie The Great Gastbywith Leonardo DiCaprio is a perfect illustration of product placement for Moët&Chandon. You can watch the trailer, especially at 2:07 !
Wine
– The movie Casino Royal with Daniel Craig as James Bond, we can see a bottle of famous Château L'Angélus in the train scene… Wow !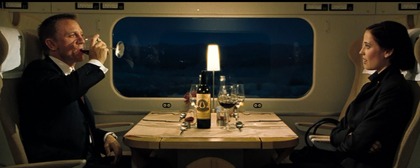 – The placement product champion is the American wine property Clos du Val, which you can see in Sex in the City, Desperate Housewives, Will & Grace, Bewitched (movie with Nicole Kidman) or Terminal(with Tom Hanks)…
The type of vines also are used and are quite famous in movies :
– Hannibal Lecter in The Silence of Lambsconfesses that he tasted a nice Chianti with the liver of one of his victim (the sells of Chianti decreased the following year…). In the contrary, in the movie Sideaways,the hero is fan of Pinot Noir and so the sells raised of 20% in the USA after the display.
– Sandra Bullock let the beer down for Cabernet Sauvignon in Miss Congeniality.