Second Grand Cru Classé since 1855, this Château has got a terroir aged of more than one million years old composed of red gravels, black or red Lydian but also blond or pink quartz, black or white flints… On this multicolored lands stands the Château Gruaud Larose, near Saint Julien in the Medoc area. 80 hectares of vines are around the Château… The Medoc is considered as the cradle of Grands Crus Classés of Bordeaux : the Château Gruaud Larose is part of this timeless and unsurpassed wines family.
---
"Wine of Kings, King of wines" Abbot Gruaud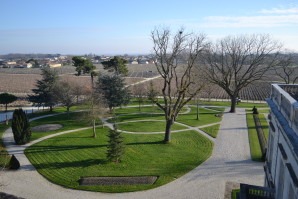 Around 1660, the Médoc knows success thanks to Pontiac family, owner of Haut Brion : a lot of owners are searching for lands to plant vines which weren't existing in the north region of Bordeaux back in this time… Abbot Gruaud bought 70 hectares in Saint Julien. The knight de Larose succeeds to his uncle and his austerity measure allows to the Château to keep a great stability. Thanks to that, Gruaud Larose became a 2nd Grand Cru Classé in 1855. The knight will never know this time because he died in 1795. During a short time, until 1812, the Château is in an inheritage storm. Then Sarget, Balguerie and Cie bought the property and because of a disagreement between the associates, the property has been separate in two parts : Château Gruaud Larose Sarget and Château Gruaud Larose Faure.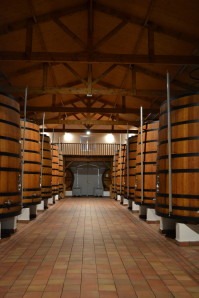 Then, Désiré Cordier is owner of a part of the Château in 1917 and bought the second part in 1935. He will try to reunite the Châteaux. When he died, his son Jean became the leader of a huge firm. In fact, Désiré Cordier owned a lots of properties and also was a very important vintner : Cordier. I worked in this firm few years after its merge with another vintner Mestrezat : Cordier Mestrezat Grands Crus. It's also thanks to Cordier that in 1940 the vines team will plant Cabernet Sauvignon and reduced Malbec, Cabernet franc and Petit Verdot. In 1983, Maison Cordier sold the reunificated Château Gruaud Larose at the Suez Group which will sold the property 10 years later at Alcatel Alsthom. This last firm will do big works like new underground cellars ! In 1997, the Bernard Taillan firm with its leader Jacques Merlaut, owner of other properties like Chasse-Spleen or vintner like Ginestet, bought the Château Gruaud Larose.
Today, the property has got 132 hectares (82 hectares of vines) with 57% Cabernet Sauvignon, 30% Merlot, 7% Cabernet Franc, 4% Petit Verdot and 2% Malbec.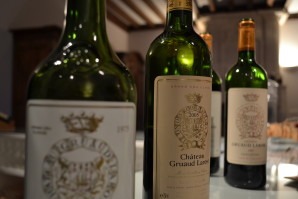 – Sarget de Gruaud Larose, 2nd wine of Château Gruaud Larose, Saint Julien, 2001.
With a nice cherry red even brown, the robe is clear, deep and shiny. The first nose is toasty and quite nice with blackberry, quince and flowers. The second nose is delicate on jam fruits. The quince is mixing with rose flavors. The mouth is smooth and fresh. Blackcurrant, blackberry, exotic wood are blending perfectly with spices like vanilla. Then, the finish is nice on blackberry, hawthorn and light wood. But there is too much acidity at the end…
You have to count 27 euros the bottle at the Château
– Château Gruaud Larose, 2nd Grand Cru Classé since 1855, Saint Julien, 2007 (71% of Cabernet Sauvignon, 21% of Merlot, 6% Petit Verdot, 2% of Cabernet Franc).
The robe is shiny ruby and really deep. Intensity is medium… But so red ! The first nose reminds raspberry jam, cocoa, fresh strawberry and a little bit of leather. Roasted, the second nose is fresh and compelling with cherry, raspberry and coal notes. The mouth is also very fresh and fruity : wonderful mix of raspberry, blackcurrant, blackberry, blond tobacco and coffee. The finish is very nice with crispy fruits but lasts not a long time. The very finish is a little bit sugary with vanilla flavor. Gourmand !
You have to count 63 euros the bottle at the Château
– Château Gruaud Larose, 2nd Grand Cru Classé since 1855, Saint Julien, 2005.
Big vintage, this 2005 is ruby red. The first nose is very fruity and straight with strawberry and raspberry notes sprinkle with cocoa. Discrete and refine, it's a nice first meeting. The second nose is powerful with smoky and woody flavors. I've got the impression that my nose is in a raspberry jam jar with pieces. Blond tobacco and cocoa complete the piece of art. The mouth is wide and well-balanced. Smooth but not velvet, the red fruits melt with black fruits. Powerful and peppery, cocoa brings bitterness. The finish finally is long on fruit and toast. Very nice vintage, very beautiful wine. Perfect.
You have to count 110,50 euros the bottle at the Château
– Château Gruaud Larose, 2nd Grand Cru Classé since 1855, Saint Julien, 1975.
Big moment and nice surprise when our host took this bottle and served us a glass which wasn't intended during the tasting ! Open some days earlier, air haven't been a nice friend for this wonderful wine… The robe is garnet-colored with an orange halo. The first nose has truffle and old flowers notes. I also feel some flavors of plum brandy and soy sauce, a little bit fermented tho. This first nose is like very old Sauternes which are close to Cognac. The second nose is fresh without defects and reminds more candied fruits, Périgord truffle and cigar box. Sadly, the mouth is dead ! Metallic, very acidic, draining, the tasting is not fun ! But, the finish is fruity on prune and is quite long ! Too much air killed the mouth of this wine. It might be exceptional… The tasting is still full of emotions.
You have to count 561 euros the bottle at the Château