Sometimes we can find some surprising wines… During a Chinese wines tasting, a name on the list attracted me: Flower Wine… You know I like new discoveries: curious, I looked at it closely and I couldn't resist to taste this floral poetry… So what is it? Is it good ? Why ? How ? When ? Where ? Who ? Well, I tried to answer these metaphysical questions for you… only for you !
---
"Life is a flower. Love is its honey." Victor Hugo
It's a white wine in which Osmanthus flowers from the Suzhou and the Hangzhou regions have been added. Osmanthus is a little decoration tree which is producing white, yellow or orange flowers in temperate zones of Asia. These flowers have a sweet flavor of jasmine, peach or apricot: they use it in China to perfume tea but also in the cooking. With this light smell, the flowers are also used in luxury perfumery or cosmetic (Roget Gallet has got a whole range of products with Osmanthus and Hermès has got a fragrance : Osmanthe Yunnan). I'm not astonished that Osmanthus (or Sweet Olive) is using in wine here !
It's quite difficult to know more about this wine produced by Beijing Fengshou / Harvest Wine Co. Ltd… I don't know what dry white wine was used (probably Riesling…) and what is the vinification method…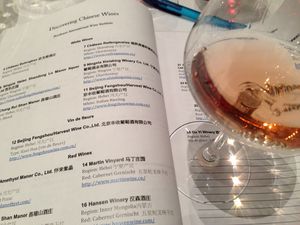 – Osmanthus Wine, Kuei Hua Chen Chiew, 15% of alcohol, Biejing Fengshou / Harvest Wine Co. Ltd
The color is interesting: a light orange, near salmon pink, bright and limpid. The first nose is all about apricot. It's a little bit heavy, a little bit pasty. The second nose is more delicate and has got a fresh sweet cosmetic flavor. The mouth is sweet with a little bitterness. Fresh, it reminds me prune, peach and apricot. Gradually, a saline side appears, a little bit iodized. Acidity is persistent: it's curious, it's unique, it's fun !
Chinese people advise to drink this wine at the end of the meal. It might have quality of relaxation and digestion. It will heat up the body, make the blood circulation easy, decrease the tiredness sensation and increase the appetite. We also call this wine 'Chinese Martini'… That's a great program !