Sometimes you have to see in order to believe… It's what happen with Vodka Pyla !! This spirit is far away of the Bassin d'Arcachon no ? When you're talking to me about Vodka, I'm getting a Russian accent (I'm blond, no one will be mad at me), I'm thinking caviar, freezing cold, snow, matriochkas, ouchanka, Kremlin… Well, I'm thinking about a lot of stuffs but not about gold sand, Landes pines forest, shiny blue ocean, lovely pitching boats, oysters beds… Then you will tell me 'You don't know anything about it !! Remember Grey Goose which is elaborated in Cognac by H.Mounier'… It's true !
Eymeric Bernard, Valdronne director (fourth generation at the head of the group created in 1928), has launched the crazy idea to realize a spirit made in Aquitaine, full of the region terroir and with an evocative taste between marine freshness and sandy heat. In order to achieve this incredible gamble, Eymeric will trust two persons : the œnologist doctor Gilles Arramon and the alchemist Lucien Viaud.
---
"It is better to drown its sorrow in Vodka. As it's Russian, we can be sure that is will not pull up !"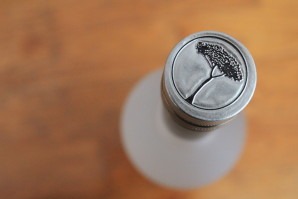 Originally, the Bernard family is leader in the production and the sell of Brandy in Europe, commercialized under private labels. But today is different : the Vodka Pyla, it's their own brand, their own creation with two other spirits (wine brandy Aqua and limoncello Kypris). The originality of this Vodka is to link this group from Bordeaux which is dealing with international markets with its roots.
In his laboratory, the alchemist Lucien Viaud has invented a water natural filtration through earth layers : here it's sand coming from the famous Great Dune of Pyla. The sand will give its name to the Vodka : couple silicium and excellence which will give birth to Excellium. Moreover, this sand is from the family property at the Teste-de-Buch, a bailiff report is here to prove it. Then, the wheat used for the production is french, certified gluten-free (which takes out the bitterness). The fabrication process will go through 5 steps : the goal is to reduce the alcohol level thanks to successive stages. Fresh water which takes part of the process is from a deep groundwater from the Eocene time.
Created in 2011, this 'turned off' Vodka is produced up to 10 000 bottles per year to begin…
Wine has got œnologists and Vodka has got kipers ! The tasting of Vodka is not like the wine one and this alcohol which seems to be scalding and dry, is finaly full of finesse and flavors when you know how to taste it. At first, I thought Vodka wasn't a spirit really interesting… But I was wrong. So before my tasting comment, lets see how the Vodka is drank in Russia.
First, you have to get a Vodka glass… In Russia a little glass is enough, but you can find real Vodka glass at Riedel for example. Your Vodka has to e clear like water with nice drops. Don't forget to put the bottle in the freezer (it will not become ice don't worry), yo have to serve this spirit more than fresh ! Russian people drink Vodka with greasy food but also simple meal like smoked herrings or jacket potatoes with butter and dill. Just before the Lent previous Easter, Vodka is served with blinis with butter, cream, smoked salmon, soft-boiled eggs, smoked herrings and for sure caviar (black from sturgeons and red from salmons). Each time there are guests, Vodka is offered : guests have to accept and drink it straightly with gherkins in order to break the alcohol impression.
The Vodka must be iced and drink straight. There might be a sweetness and a balance in the mouth. Four families of flavors can appear : grains, toasted, solvent and butter. These flavors help the kipers to recognize the origin of the Vodka but also the main ingredient. Lets see now what the Vodka Pyla has to offer !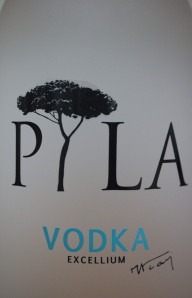 Vodka Excellium Pyla – 40%
The Vodka is clear, misted by the freshness of the freezer. The drops are numerous and quite oily. The nose is powerful but less violent than the other Vodkas we can use for a 'common consumption'. I feel ethanol for sure but also aniseed, mint and pepper. It's in the five first minutes that a Vodka opens : it's not like a wine of a whisky which need more time. For the Vodka tasting, if I understood everything correctly, you have to inspire with the nose, drink straightly the Vodka (you can also split, it depends of the Vodka tasting school) and than you have to expire with the mouth : the alcohol is less powerful and in the contrary, the flavors are potent. In the mouth, I also felt fennel notes and anis seed… Also a little bit of liquorice with a lot of freshness. After a while, some green plum and cherry plum are appearing. This Vodka has got an scheming freshness, a class Vodka… A very nice surprise !
I have to confess that I'm not a Vodka taster… So in order not to say stupid things, I've been watching other comments after having done mine… Ah oh surprise !! The flavors found are pepper, liquorice, pine cone and Mediterranean aromatic herbs. So my tasting is not so bad !! Then to do justice to this Vodka, go buy nice caviar from Aquitaine !
You have to count between 33 to 35 euros the bottle only in France for the moment.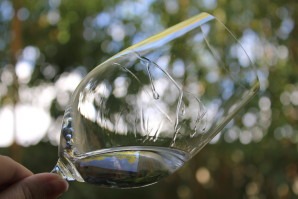 Thanks to Tatiana for her informations about how the Vodka was tasted in her familiy ! спасибо !