Thanks to the amazing personality of its leader, Bill Samuels Jr. (the founder's descendant), this bourbon has been during a long time the heartthrob of the USA. With its square bottle, its crenate sticker and its famous red wax on the neck, the marketing has reached the top ! Indeed, even if the Samuels family is still at the head of the firm, Maker's Mark is owned by a Group. Other little surprise : it's the only one American whiskey which has chosen the Scottish writing whisky with a 'y' !
---
"What whisky can't treat is incurable"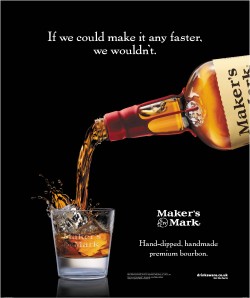 In the 50′, the Samuels family bought a little deserted distillery in Loretto Kentucky. At this time, the family already has experiment in the whisky business and only one thing interested them : to create a sweeter bourbon. In order to reach this goal, all the ingredients were reunited : corn, barley, wheat and rye. These ingredients are the same as bread : the family had just to adjust the quantity of cereals to find the good recipe. This way aloud to win time and to find what Maker's Mark is today. Little surprise (again) : there is no rye in this whisky. Then the first bottle of Maker's Mark will be sold in 1958.
To get the 'straight bourbon' denomination, the whisky must aged 2 years minimum in barrels. Then Maker's Mark will be bottle when the distiller masters are happy about it. Moreover, the aging of this whisky is done traditionally : the barrels are moved down or up in the stages in order to get the temperatures changes (this method is quite expensive so it's rare).
Today, Maker's Mark in owned by Fortune Banks since 2005 (owner of different Golf brands, Starbucks Coffee Liquor or Jim Beam). In 2011, the alcohol part of the firm is re-baptised Beam Inc. and Bill Samuels (70 years old) retired. He let his son Rob at the top. In 2013, Maker's Mark decided to decrease the alcohol level of its whisky from 45% to 42%… But the consumers weren't agreeing, so this idea has been abandoned. Maker's Mark has also a 50,75% whisky with gold wax and a 33% whisky with green wax for the Kentucky Derby (horses race).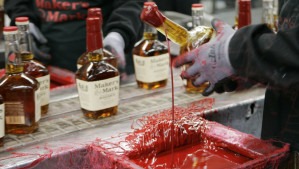 – Maker's Mark, Kentucky Small-Batch Bourbon
Nice amber color in the glass with pretty drops. The nose introduces vanilla, coconut and even curry notes. Complex, there are also liquorice, wood and smoky flavors. It's round, it's sweet and it also reminds brioche bread… The tasting is straight then soften during evolution. Still smoky, the cooked corn appears with whiskylactone. The finish is sweet on vanilla and wood.
It's a real whisky which has got style.