The airport Duty Free is like Disney Land, you don't know where to look at. In Los Angeles, where I was in transit, I chose a wine aimlessly. A Made in US wine for sure and a wine from California in order to reduce my carbon footprint (ahah)… So I chose as Duty Free Wine the Belle Glos of the Monterey region. Monterey is quite famous for its aquarium and it's also an incredible wine area. Nice bottle with an original capsule in red wax and funny name : Belle Glos (you have to pronounce it Belle Gloss). So let's taste !
"Where the (air) hostess is pretty, the wine is good"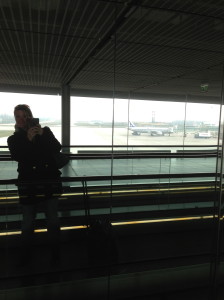 Belle Glos is an enigmatic name : the one of Joseph Wagner (the Belle Glos winemaker) grandmother, Lorna Belle Glos Wagner who founded the Caymus vineyards in the Napa Valley. The vineyard is part of a long list of properties owned by the Wagner family : Caymus, Meiomi, Conundrum, Mer Soleil and Belle Glos. And there are 3 vineyards, I mean 3 terroirs in the Belle Gloss property : Taylor Lane, Clark & Telephone et Las Alturas.
Taylor Lane in the Sonoma County is 6 miles away from the coast and suffers from the climatic hazards between fogs and winds. Wine growing is different and they adopted an italian way which consists to build pergolas with Pinot Noir cloned Dijon. Sheeps are alive lawnmowers, there are free during spring to attend in the vineyard.
Clark & Telephone is in the Santa Maria Valley between cold streams of the Pacific Ocean and the Santa Maria river. 100% of Pinot Noir cloned with Martini allows to obtain a spicy wine with notes of cinnamon and caraway, perfect match with Asiatic cuisine and even Mexican food.
Finally, the one which interested us : Las Alturas, on the high plateau of the Monterey area. This vineyard of 6 hectares average produces Pinot Noir with different clones. The terroir is unique, mix of red clay and limestone.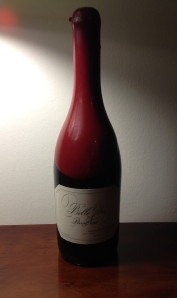 – Belle Glos, Las Alturas Vineyard, Santa Lucia Highlands, Monterey County 2011 (100% Pinot Noir)
With a very nice deep ruby, some dark purple reflects complete the palette. The first nose is aromatic and fruity with some blackberry, cherry and black fruits jam notes. Some spices are mixing with the fruits like cloves. There are also nice grilled meat flavors. The second nose is even more complex with this fruits and pepper mix. Alcohol is relatively present (quite normal with the 14,5% posted) and emphasizes the leather and rustic plants (as sage and thyme) presence. The mouth is smooth, powerful and spicy. Evolution is fresh and mentholated, still with spices. There is a certain sweetness. Powerful, warm, well-structured and even piping hot and the end… This wine is synonymous of full-bodied. Cherry, very intense clove, pepper and blackberry… everything is melting with vanilla, light wood and even Espelette red chili chocolate ! This wine is a real surprise, complex and intense. A very nie creation, I'm charmed. The finish is velvet on soft fruits like liquor cherry.
Certainly a high class wine. The Pinot Noir is in its purer sensual expression. But it needs ti be match with some food : the too much kills the too much ! A grilled meat on a barbecue will be perfect… Let's stay in the Made in US.
You have to count 44 dollars the bottle in the LA Duty Free