Invented by Jean-Michel Monot after the tasting of an Australian mango 'wine' with his œnological club, the Blanc Sec d'Ananas (White Dry Pineapple) can't be named wine because it is not done with grapes but with the Queen Tahiti pineapple variety. Jean-Michel is the main director of the Fruits Juice of Moorea (the sister island of Tahiti) and of Manutea in French Polynesia. So it has been decided in 2007 to create a 'wine' with the Moorea pineapple. Difficult challenge because the pineapple is hard to ferment. But well, in Hawaii they tried but they had to add some flavors so the taste is far away from the real pineapple taste. So lets see this new creation… Is the real taste of the Queen Tahiti recognizable ? And with what can we drink this Blanc Sec of Pineapple ?
---
"I found my treasure island. I found it in my own world, in my meetings, in my job" Hugo Pratt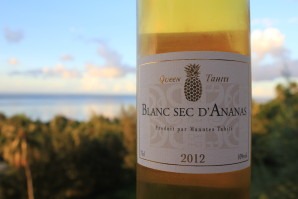 Pineapple crossed mountains and oceans… Coming from South America, this fruit has been introduced by explorers who allows to show the world it is incredible taste. It exists 3 different pineapple families in the world : Cayenne, Queen and Spanish. In Tahiti, it's the family Queen which grows. This pineapple has got small and prickly leafs, the fruit is bright yellow with a very flavored clear and sugary flesh. French Polynesia is the crib of Queen Tahiti where it comes out easily thanks to the climate and the terroir. This terroir its the red lands of the ancient volcano caldera in Moorea, at the foot of the Rotui Mount where the climate is wet and hot. 30 000 plants by hectare are growing and every 5 years they are replanted in order to have great fruits. Polynesians love this incredible fruit : as fresh juice, simply as slices, as cocktail with rum or as a liquor and now as 'wine'.
To create this Blanc Sec of Pineapple, the best fruits are chosen. The alcoholic fermentation is done thanks to add of yeasts during 10 days (average). A cellar with barrels is for some special cuvée. Then a stirring of the lees is done to kill the yeasts in the Taransaud barrels. Finally, a fining and a clarification are done before the bottling.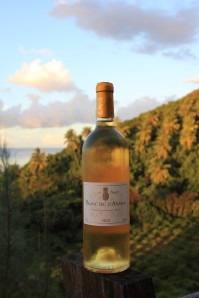 – Blanc Sec d'Ananas, Queen Tahiti, Manutea Tahiti 2012
A nice shiny lemon color, even a color which reminds the ones of Moorea pineapple ! The nose is about pineapple. Alcohol is strong but as the flavors are also powerful, the mix is well-balanced. Shy candied lemon, grapefruit and almond paste are also there. The second nose is gourmand and full of tart. We can re-find fresh pineapple but also pineapple sorbet. There is also a melt of white flowers and green fruits. It's fresh and it's tasty. The mouth is totally dry which is curious because I was waiting for a little bit of sugar in this pineapple drink ! But well, it's still fresh and sharp. The tasting is pineapple oriented (it's not anymore a surprise) and it's a little bit bitter. Notes of peach and apricot appear. Then the long finish is a mix of litchi, rose and pineapple. Queen Tahiti is really recognizable !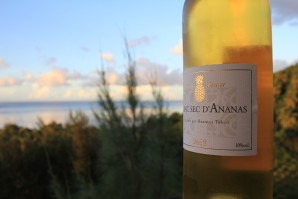 Warning ! Warning ! It's a DRY drink. It's a real surprise because with 10% of alcohol there is no impression of sugar. In a way it's sad because it reduces the food matching. This 'wine' is not drinkable as appetizer because of its high sharp. But with fishes and fruity deserts, it's perfect : in Tahiti, it can be drank with raw fish and a vanilla salsa Mahi-Mahi… Maybe a Sparkling Blanc of Pineapple (for Christmas ?) will be created. It also exists special cuvée of this White Dry of Pineapple aged in oak barrels !