Domaine de Chevalier has disturbed the codes this year and has rolled out the red carpet to introduce three new wines from a same terroir : Le Clos des Lunes. Grand Cru Classé of Pessac Léognan, Domaine de Chevalier offers Clos des Lunes – Lune d'Or (Gold Moon), Lune d'Argent (Silver Moon) and Lune Blanche (White Moon) produced thanks to vines from Sauternes ! The appellation is still Bordeaux but the origine of the vines is glorified. I have tasted Clos des Lunes – Lune d'Argent at the Grand Hôtel of Bordeaux… Debriefing !
---
"Moon is the Sun's dream." Paul Klee
80 000 bottles have been produced in 2012 (5 000 bottles for Lune d'Or and 65 000 bottles for Lune Blanche) for this Grande Cuvée. On Sauternes and Bommes terroirs planted with old Sémillon and Sauvignon Blanc, grappes are picked up by hand when they are fully ripe. Vinification is traditional : a part is in barrels (25%) and the other part is in vats (75%). Allying power and freshness, a slow pressing is done just after the harvests. Without stemming and maceration, the clarification is natural and at cold temperatures. Then wine is caned and when it is in barrels, it will stay 6 to 7 months. With 13,5% of alcohol, you have to wait between 1 to 3 years to drink Clos des Lunes – Lune d'Argent. As you can see on the photographs, a real marketing effort has been done especially on the sticker : which is really classy.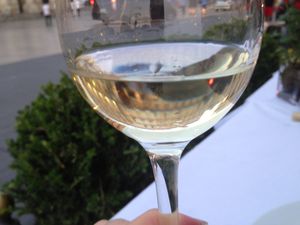 – Clos des Lunes, Lune d'Argent, La Grande Cuvée 2012 (70% Semillon, 30% Sauvignon Blanc)
Very nice gold color, really pale… The wine is limpid and shiny, some delicate drops are marrying the glass form… The first nose is very aromatic and fresh. I feel the freshness of a winter morning, like when you are breathing deeply an invigorating air. After few seconds, the nose opens on pear and bergamot. The second nose is fresh, lightly acid but seems to be really soft in the same time. Pear, litchi, bergamot… With a nice floral touch like lilac and acacia flowers. Interesting and complex. The mouth is fresh with acidity. There are notes of lemon, orange and pineapple. A kind of sweetness, softness or smoothness appears with a green side like fresh cut grass. The finish is aromatic with pineapple, pear and honey notes. It's well-balanced. It's a very nice wine… But be careful : even if it will be nice with oysters, its very light acidity allows it to be tasted with white fish or white meat.
You have to count between 35 to 40 euros to taste this nectar (in a restaurant).
---