This is an interesting tasting… Usually when we are tasting spirits, we taste them from different areas. But well this time all the spirits are coming from Ireland and it is organised by the Irish Food Board and the Origin Green Program ! Then we are talking about whiskey here (no whisky !).
At Vinexpo, it's time to discover new Irish spirits because it's not the most famous whiskies in the world : it represents 4% of the world whisky industry… Well, not for the moment. Most of the whiskies are coming from Scotland, Japan and the USA. But in Ireland, it represents 1 billion euros of all food-processing exportations. And all the food-processing sector is about 10 billions euros exportation. So whiskey is a quite important business in Ireland ! In 2014, 7 millions casses (of 9L) have been exported : they hope to reach 25 millions in 2030 !
There were 230 distilleries in Ireland before but today there are only 6 and 1 is located in Dublin : lets begin with this one !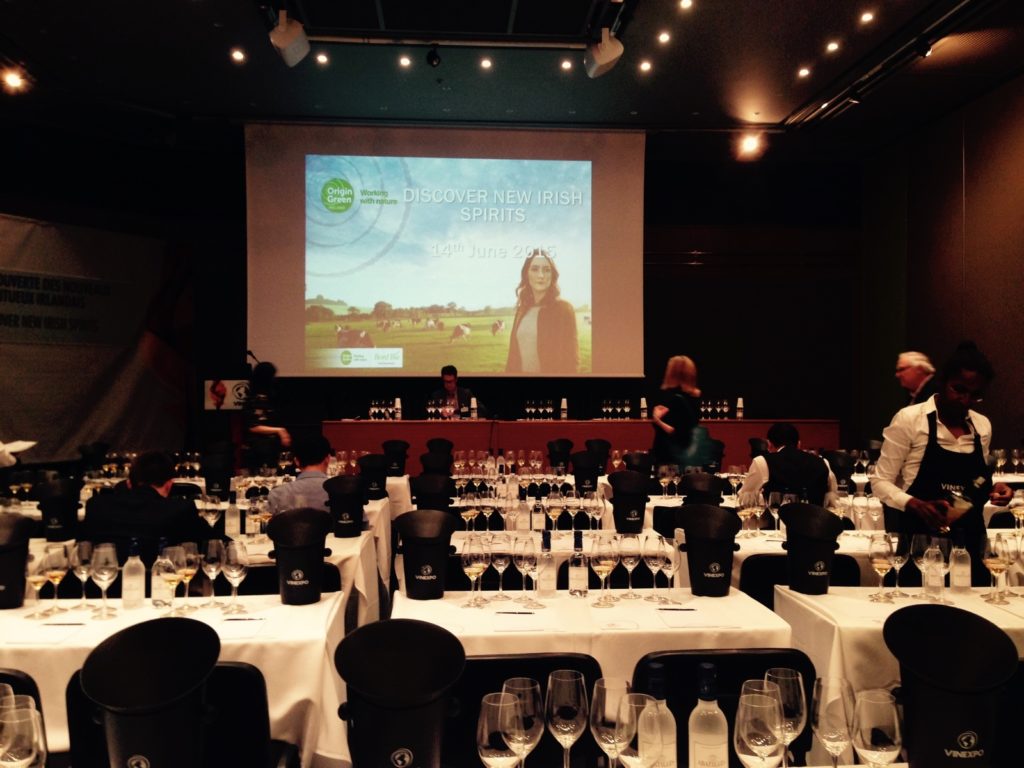 – Small Batch Blend – Teeling Whiskey
This distillery is back in Dublin, the only one and 100% independant. This is the leader of craft whiskey in Dublin. Which is quite cool because the new buildings are open since few weeks ! You can visit tho. Well, this whiskey is a mix of Grain and Malt which have been matured in rum barrels from South America. This whiskey (like all irish whiskeys) has been through 3 distillations and has been cold filtered. We have 46% of alcohol which is quite high. The color is clear and the nose is with vanilla and fruits but also smoky notes. It's a sweet and nice smoky mouth with a long nut fresh finish.
– Teelings Single Malt – Teeling Whiskey
Here we have a 100% malt coming from 5 differents type of whiskey : one is 23 years old and matured in sherry barrels. Then you have also 4 malts matured in Bourbon casks which were containing first Cabernet Sauvignon, Chardonnay, Madeire and Porto. The nose is fruity with apple notes but also caramel. Then the mouth is smoky with red fruits flavors. Very aromatic, the finish is quite sweet and smooth with cherry notes !
– The Irishman 12 y.o Single Malt – Walsh Whiskey Distillery
This distillery has a quite cool story and is located at 1h20 of Dublin. The family wanted to invent an easy recipe to do Irish coffee in 1999. The recipe is a mix of whiskey, coffee and sugar called Hot Irishman. Then you had to add hot water and cream to drink your delicious beverage. But well, now they are doing also some whiskey. This Irishman Single Malt is 6000 bottles a year. The nose is very nice with apple and spices notes. We can also smell some vanilla and fresh flavors. The mouth is smooth but strong with vanilla, pear, fruits stones, cocoa and toffee notes.
– Writers Tears – Walsh Whiskey Distillery
This is a mix of potstill whiskeys : 60% single malt and 40% single poststill which aged 12 years in US barrels. The nose is fruity with green apple. The mouth is powerful with salty notes. We also have spices like black pepper and even red chili at the end.
– Dubliner Irish Whiskey – First Ireland Spirits
This whiskey is a mix of single malt and grain which has aged in Bourbon casks from Kentucky. The level of alcohol is about 30%. The nose is all about cinamon, vanilla and apple. The alcohol is quite powerful in the nose but we also have freshness. It's clean. The mouth is nice and sweet close to rum flavors. We have honey, caramel and toffee notes. It's nice.
– The Dubliner Liberties "Oak Devil" Irish Whiskey – First Ireland Spirits
It's a very fresh whiskey with a nice nose. Apple and caramel are the flavors I'm smelling. The mouth is with honeycomb and caramel notes. Quite simple.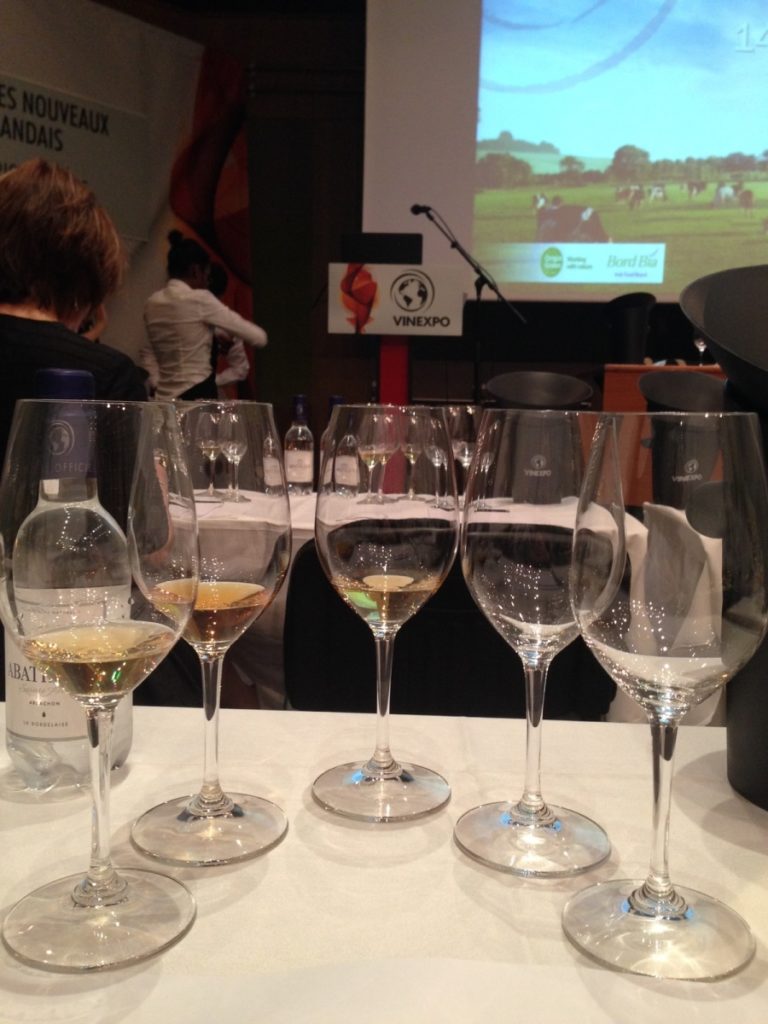 – Kerrygold Irish Cream Liqueur – Kerrygold Superior
Kerrygold is a dairy company. They are doing some milk and cream products. But they also decided to do an Irish Cream Liqueur. This recipe is a mix of Cream, chocolate and whiskey. They are mixing cream/chocolate and whiskey during a hot blend process. This beverage is very creamy (40% more creamy than the other Irish Cream Liqueur). First you feel the cream, then the chocolate and after the warm fade whisky. Ireland produces 9 millions cases of Irish Cream. This beverage is only sold in the US for the moment but the company wants to extend. The market target is woman !