The famous international wine magazine Decanter decided to inaugurate Vinexpo this year by an incredible tasting ! Since 2004, the magazine launched the Decanter World Wine Awards. This year is the twelfth edition of this amazing journey : 15 929 wines from 48 countries have been tasted by 240 judges (including 85 Masters of Wine and 23 Master Sommeliers). Wines were classified by country, region, colour, grape variety, style, vintage and price. All the wines have been tasted blind.
During Vinexpo, 8 wines, excellence from unexpected places, have been tasted during this incredible master class. For this occasion : Gérard Basset MS MW, Markus del Monego MW and Paolo Basso, 3 world best sommeliers have been commenting the wines. Also Steven Spurrier, consultant for Decanter and famous wine taster.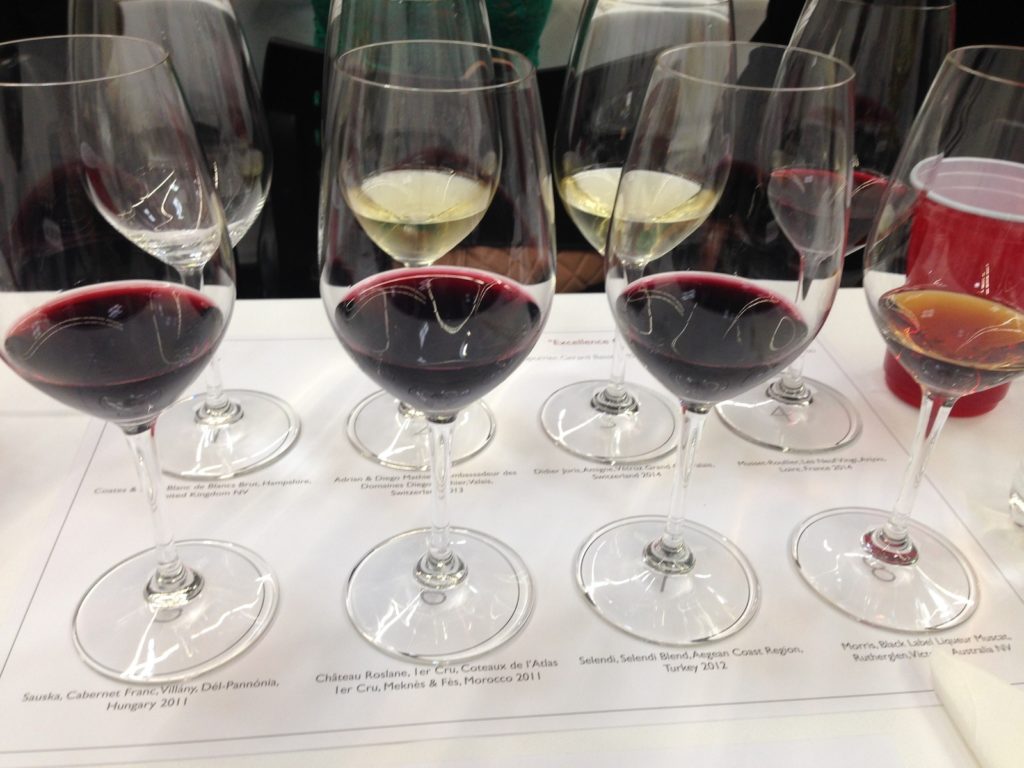 Lets focus on this tasting !
– Coates & Seely, Blanc de Blancs Brut, Hampshire, United Kingdom NV
Nice straw color with fine bubbles. The nose is fresh and fizzy with apple, lemon notes and also flowers. The mouth is explosiv ! Fresh and powerful. The acidity is very pleasant and we can feel some apple notes. The finish is delicate with apricot and watermelon flavors.
– Adriand & Diego Mathier, L'Ambassadeur des Domaines Diego Mathier, Valais, Switzerland 2013
Nice straw color with a white ring. First nose with nuts and creamy flavors. But also white peach. The second nose is more fruity with grape notes. The mouth is smooth, smoky with a nice light acidity. Buttery flavors are dealing with fruits and a minty fresh finish. Delicate !
– Didier Joris, Amigne, Vétroz Grand Cru, Valais, Switzerland 2014
The color is yellow green with a transparent ring. The nose is fresh with mandarine, grapefruit and white flowers notes. The mouth is fresh with a nice acidity and a curious but interesting salty sensation. The finish is long with intense citrus fruits notes.
– Musset-Roullier, Les Neuf Vingt, Anjou, Loire, France 2014
Nice purple red clear color. The nose is fruity and powerful with orange and cherry notes. There is also a smoky sensation. The second nose is even more powerful with black fruits, smoky and woody notes. I feel also a slighty vegetal note. The mouth has tanins on the tongue but it's nice. it's aromatic with blackcurrant and mineral flavors. It's fresh and the finish is very nice with black pepper and cooked cherry.
– Sauska, Cabernet Franc, Villàny, Dél-Pannonia, Hungary 2011
Very nice ruby color, intense with an orange ring. The nose is intense, gourmand between the cocoa, the cherry and the wood. It's just magic ! Very nice with some notes of vanilla… It's seems to be like a rhum ! The mouth is also very nice with freshness, vanilla, cherry, tabacco and also grape notes ! Delicious.
– Château Roslane, 1er Cru, Coteaux de l'Atlas 1er Cru, Meknès & Fès, Marocco 2011
Very nice and shiny ruby. The first nose is intense with cherry notes but also floral flavors like red rose. It's quite complex with black pepper and vanilla notes. The second nose is as complex as the first one. The mouth is smooth with meety flavors, vegetal notes and light tanins. It's different, it's unique with some acidity at the end. The finish is all about blackberry and raisin.
– Selendi, Selendi Blend, Aegean Coast Region, Turkey 2012
It's a very intense black red without any transparence. The nose is very aromatic. Amazing because it seems to be sweet like apricot. The second nose seems also to be sweet with cherry, dry herbs and spices. The mouth now is unique with strong tanins. It's dry for sure, not at all like the nose with dry black fruits flavors. The finish is very pure with blackberry notes.
– Morris, Black Label Liqueur Muscal, Rutherglen, Victoria, Australia
Maybe the best at the end. One of the favorite wine ever of Gérard Basset ! But well, I have to admitt that it's exceptionnal ! The color is close to a light coffee, orange. The nose is very aromatic with coffee, apricot, dry apricot and pineapple notes. But also almond at the end. The mouth is just perfect : about the Corynthe raisin. Very nice sweetness without acidity but it's not a problem because it's well-balanced. It's like a sirup with honey, toffee, cocoa and apricot notes. The finih is wonderful.