In this season of freshness… Even of cold winter, it means that we are hearing the sound of the mulled wine in the pot… The windows are fogged, we released our finest Christmas sweaters and snowflakes make a peaceful atmosphere. You guessed it, I love this season and there is nothing better, in my opinion, as when you are warm when it's cold outside ! But whence comes this little mulled wine ? What is its origin ?
---
'The quality of a great wine is to be red' Whiston Churchill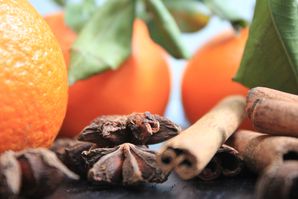 Mulled wine has become common nowadays. But in reality, it's very popular since its origin. The recipe is very easy and anyone can add a touch of originality. Here is the basic recipe that you sweeten to suit your tastes !
– 1 liter of red table wine (no sacrifice of big bottle unless you want a hot luxury wine !)
– 130g brown sugar per liter
– Cinnamon
– Star anise
– Cloves
For a bit of originality, you can put 1/3 sweet or dry white wine with 2/3 of red wine. And there is no limit to the madness : add a little orange liqueur or orange or clementine pieces. But also ginger, nutmeg, honey instead of sugar, raisins, almonds, lemon…
Now, you need to heat the wine with fruits and spices. Let reduce and add sugar according to your convenience. You have to know that the more you cook, the more fruit will be preserved. Yum ! Then simply serve hot ! Enjoy !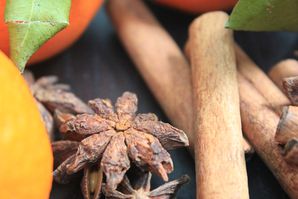 But where did this recipe come from ? After doing some research, I realized that the origin remains uncertain. But I think the practice of mulled wine has existed since the wine is consumed. The first mulled wine would be Conditum Paradoxum, a Roman mulled wine from the year 20 AD. It's a mixture of honey, spices (pepper, mastic, saffron, nard, bay), roasted dates and wine on fire ! This drink was very common in the Roman Empire and its colonies.
In Catalan country in the twelfth century, writtens report a mulled wine mixed with chilli named Pimen. This drink will be name Hypocrasin 1390. This beveradge is a sweet wine with honey and flavored with royal spices (ginger, cinnamon, musk, ambergris, cardamom, mace, long pepper…). It's widespread in the Middle Ages but it'is not necessarily heated. Some hypocras in the Montpellier region is named Garhiofilatum during the thirteenth century. This is a high quality white wine with spices like cloves and noble plants. A property of Montpellier, Château d'Exindre, sought for almost 5 years the original recipes fallen into oblivion. They succeeded and today Garhiofilatum can again be enjoyed.
Mulled wines have their place on the largest medieval royal tables. Proof is that the oldest pitcher of mulled wine discovered was cover of gold and silver. It belonged to Count Jean IV Katzenelnbogen of Germany. Because of the origins, mulled wines seem to come from Southern Europe, but I think the cold countries of Northern Europe had also the tradition of mulled wine. Sweden has a long tradition of Glögg (a term created in the seventeenth century) as well as Denmark and Norway. This mulled wine is made from white wine coming from the Rhine and was mixed with honey and spices (in order to change !): cinnamon, ginger, cloves and cardamom.
Today, it's mainly during the Christmas period and in cool countries that this mulled wine is mostly consumed. This beveradge is really for everyone, it's even given to children in order to wait for Santa Claus. Whether in Scandinavia under the name of Glühwein or Glögg, whether in the Italian Alps with the curious name of burnt wine, mulled wine is an institution during the winter season : easy to make, delicious and original !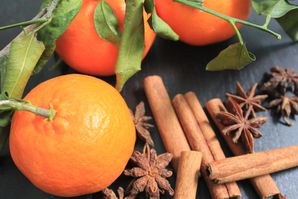 Remember that mulled wine can be consumed with food ! The best agreement with mulled wine is gingerbread !
---
There are of course a lots of mulled wines : recipes vary by country. Here is , just for fun, some of these recipes :
The Danish Glogg is a hot punch : for 12 lenses
– 250ml of water
– 3 cinnamon sticks
– 20 cloves
– 2L of red wine
– 75cl of port
– 1 glass of white rum
– 1 glass of brandy
– 1 cup of raisins
– 2/ 3 of a almonds cup
– 1/4 of a sugar glass
– 1 orange
The Grog to heal your ailments due to winter :
– 1/ 2 cup of dark rum
– Syrup sugar cane
– 3 slices of lemon
Egg Nogg from North America is used as a sign of welcome : for 20 glasses
– 10 eggs
– 1 cup of sugar
– 250ml brandy
– 500ml light rum
– 500ml light cream
– 1L of milk
This recipe is not only about cooking all the ingredients together. First you must separate the whites from the yolks. Then you should beat the whites during the add of 1/2 cup of sugar. In another bowl beat your egg yolks with the 1/2 cup of remaining sugar. Gradually incorporate the other liquids and finaly the egg whites. You must serve it warm in small quantities with a little bit of cinnamon or nutmeg. Cheers !
Remember to consume these beverages in moderation because even if the alcohol level is less important after cooking, it remains an alcoholic drink !