I've already wrote an article about the underwater aging and its positiv effect on the wine evolution : maybe you remember ? It was after a comparativ tasting at Château Larrivet Haut Brion, very nice tasting by the way which really intriguate myself ! So guess what ? I still make some research about this type of aging and I disovered a wine underwater ageg in the famous Bassin d'Arcachon near Bordeaux. It was just perfect for my tasting class Vincroyable (Amazing Wine) that I give to wine lovers at their homes. Then I said to myself that I had to taste this wine in order to live again this amazing experience so I can share this with you.
The sea, you can watch dancing… Lalala… And the wine you pour in the glass reminds me during a short time the inbelievable Wave painting of Hokkusai. Poet, maybe we should not forget the liquid side of the force and the force side of alcohol ? Anyway, what about this wine underwater aged in the Bassin d'Arcachon ? Because this wine is not coming from a Grand Cru Classé of Pessac Léognan and has not been put in the Joël Dupuch superstar oysters bed. Verdict ?
---
"More men have drown in alcohol than in sea"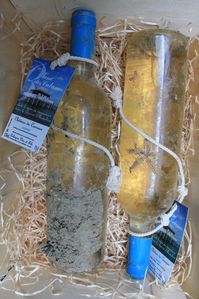 The Blanc des Cabanes (Hut's White) is a white wine from the Graves region, produced by the Château du Coureau which is in Haux. The blend is classical : Sémillon and Sauvignon Blanc, but the aging is not typical because the bottles are immersed in the Bassin d'Arcachon close to the birds island. Miss bottles have done the free-diving travel of a lifetime and have known during a short time (well 4 months in fact) the oyster life ! When they went out of this aquatic journey, they were dressed up with seaweeds, crabs and starfishes ! But where is the pearl ? Well, in your glass now !
The verdict tho : it's great ! Well, I like it. The origin is not important, the sea has done its job. And to be totaly sincere with you, I don't know if it was because of the color of the wine, but the result seems to be less 'waterproof' than for the red Neptune wine of Larrivet Haut Brion. What I try to tell you is that I felt much more the sea sprays in the Blanc des Cabanes. Something added itself to the white wine of Franck Labeyrie, it's like a metamorphose. During the tasting we still feel, and fortunatly, the white Gaves. We recognize it, we perceive it, it's incontestable. But like the wave which recovers lightly thanks to its foam, the shore, the Blanc des Cabanes has got a iodized film which wraps it… To learn more about it, I invite you to read this article until the tasting comment !
Franck Labeyrie is young and has got ideas ! I haven't met him yet but I hope I will soon in order to talk about this amazing way of aging. With one of his oysters grower friend, they maried their know-how and 4000 bottles have been laid down in oysters beds in 2009. The adventure, since, continues.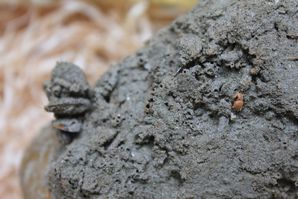 I've been searching my bottles at the Château du Coureau. Close to Langoiran city, 30 good minutes from Bordeaux, it's quite curious to get back the bottle in the 'countryside' so far away of the sea. The presentation is conscientious : 3 bottles are curled up in a hamper on a straw bed, like little oysters. An oysters knife is offered, that's a nice kind thought. Then, my dear readers, you don't have to be shocked by the bottles appearence. I've done a lot of marketing and I enjoy sensorial marketing ! I have to say Bravo for the daring ! Forget the white tablecoth or favored coaster because you might let some sludge or some mussels on the table ! A little white rigging surrounds the bottle with a hanging sticker, it's simple and effective.
Blanc des Cabanes, Château du Coureau, White Graves (Semillon and Sauvignon Blanc)
The wine is clear and limpid (don't be scared to find a shrimp in your glass). The color is a nice yellow and the wine seems keen. The first nose is aromatic and fresh. I recognize the type of vines with lemon and peach. The second nose has more subtlety. Curiously I can smell iodine, a kind of saline, marine note, like a seaside with landing net and swimsuit ! This second nose is still fresh and full of lemon. Then some light spices appear. The tasting is wide, simple, direct and surprise surprise : almost salty ! I said to myself that it will be a really nice wine with oysters, seashells or fishes. And it was just perfect because I cooked lime prawns ! It was perfect with this white wine ! But I first made this tasting without eating, then I re-made it during the diner because this wine has to be paired with something. At my left hand, there was my dad. A Mediterranean guy, italian and rised by a fisherman grand father. He recognized the smoothness of a fresh sea urchin with a squeeze of lemon… A nice childhood memory. Nothing better than this type of experience to begin a meal ! To conclude, the finish of this Blanc des Cabanes is not really long but it's not what I was asking for. Indeed, I think that if you want an atypical, charming wine and a great pairing with fresh sea products, it's a very good choice. Challenge accepted and accomplished !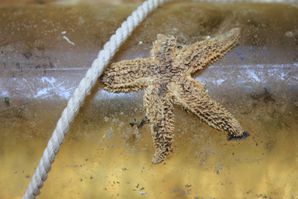 ---
Château du Coureau
33550 Haux
Blanc des Cabanes
www.chateauducoureau.com
Tél : 05 56 23 05 03