Marquès de Riscal or the modern art lost in the vineyards of the Rioja. All wine lovers have already heard of this winery like no other. I must say it doesn't go unnoticed. Between tempranillo sun, Michelin star restaurant, molecular cuisine, colorful steel waves, fragrant spa and luxurious hotel, Marques de Riscal is a bit of an all in one solution to combine great taste, carnal and spiritual.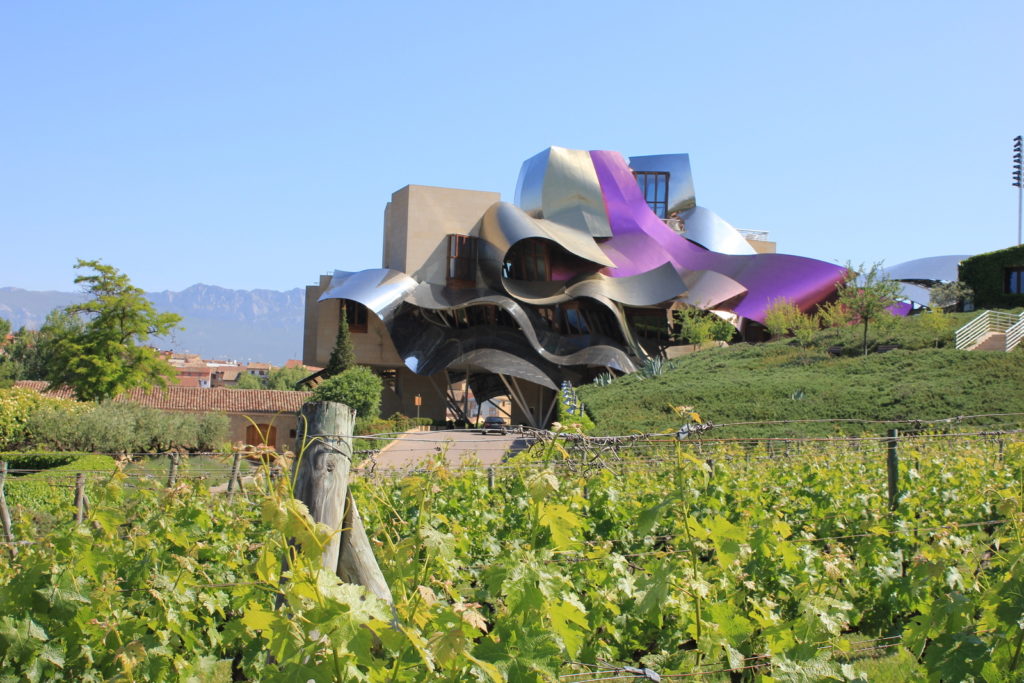 In the middle of an almost barren landscape between dry poppies and grass, among the hills of La Rioja and 1 hour inland from Bilbao, appears a curvy monster. Gate with guards, visitors from all over the world, shop with restaurants and cool gadgets… The groups of 30 wine lovers or the 40 curious crowd to start tours. In short, a winery like I love them… Irony when you hold me ! But before you start the wine tour, you must go to the cashier : professional from the wine world or not, you'll have to pay for your ticket. In short, it starts like this but there are only fools that do not change their minds ! Focus on Marquès de Riscal.
Impressive hotel but also impressive vineyards to visit with its huge cellars and memory cellar. we can visit everything : the vatroom, in which we watch a short film recalling the various stages of winemaking, barrels room, storage room, the bottling line, labeling, and even the Patrick Meynard machine – a friend – which poses the golden net on the bottles !
At the end of a long journey, tasting takes place in the shop : two wines are offered – Marquès de Riscal Rueda Verdejo white 2014 and Marquès de Riscal Rioja Reserva red 2010 vintage. The tasting is fresh for the first one and more woody with a strong temperament for the second. Interesting. After two hours visit, it's time to take off to the gourmet restaurant which introduces molecular cuisine where I made an appointment but this is another amazing adventure!
Finally, this visit was interesting and very different from those in Bordeaux. Nothing exceptional but the size of the vineyard and the architecture of the property are two sufficient reasons why you must go visit this winery. The wine is good, different but refreshing : the red is pleasant with a nice red meat for example.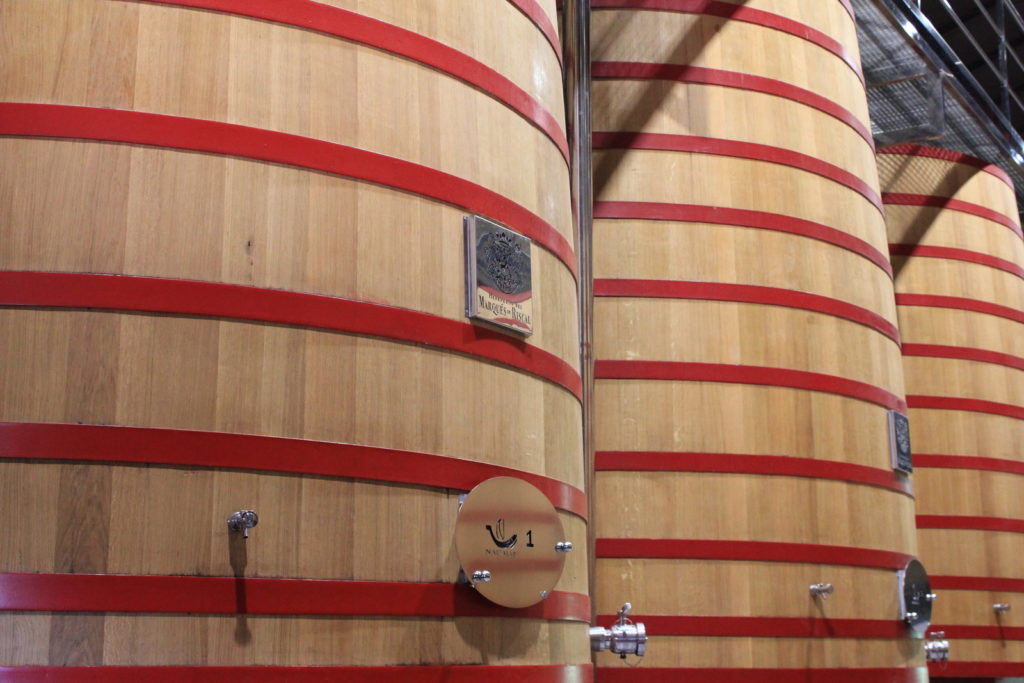 Small tip if you're going to visit Marques de Riscal : ask the tour to be made in French ! We were pleasantly surprised to have a private tour ! Yes, the French is rare and it didn't displease me. Groups of 30-40 people for a visit of 2 hours… I heve to admit, not for me ! When we are professional in the wine world, we have flaws : we don't like to mix with novice during visits. No snobbery but because we like to ask questions and I prefer private tours which creates a real relationship with our guide. We will not annoy fans with pointed questions and more right ? This also applies to my wines tours : I don't like big groups of mass tourism… Even if we have to accommodate everyone, that's not what I say ! In short, after paying a visit (in Bordeaux and elsewhere, the properties have the kind and delicate attention to free the visits for professionals… Sometimes… a privilege but not an obligation), we started our visit.

We started the trip off a hill which offered an impressive view of the unique building of Marques de Riscal ! The vine flowers were waiting for us and the little hot wind allowed us to smell the sweet fragrance. It was hot, the sun was at zenith.

Sensual. This architecture made by Franck Gehry and looks like the female penchant of the Guggenheim Bilbao… Feminine, that's how I see it : like a colorful temple of taste pleasure ! Surrounded by a vineyard of more than 1000 hectares, it's far from French properties ! Inaugurated in 2006, the Marques de Riscal winery and hotel is located in Elciego, a small pale stone town in the northern Spain. The architect of fold, Gehry, used the local blonde stone, titanium and glass. Three colors are recalling bottles of red wine from the winery can be found on the building : red, gold and silver.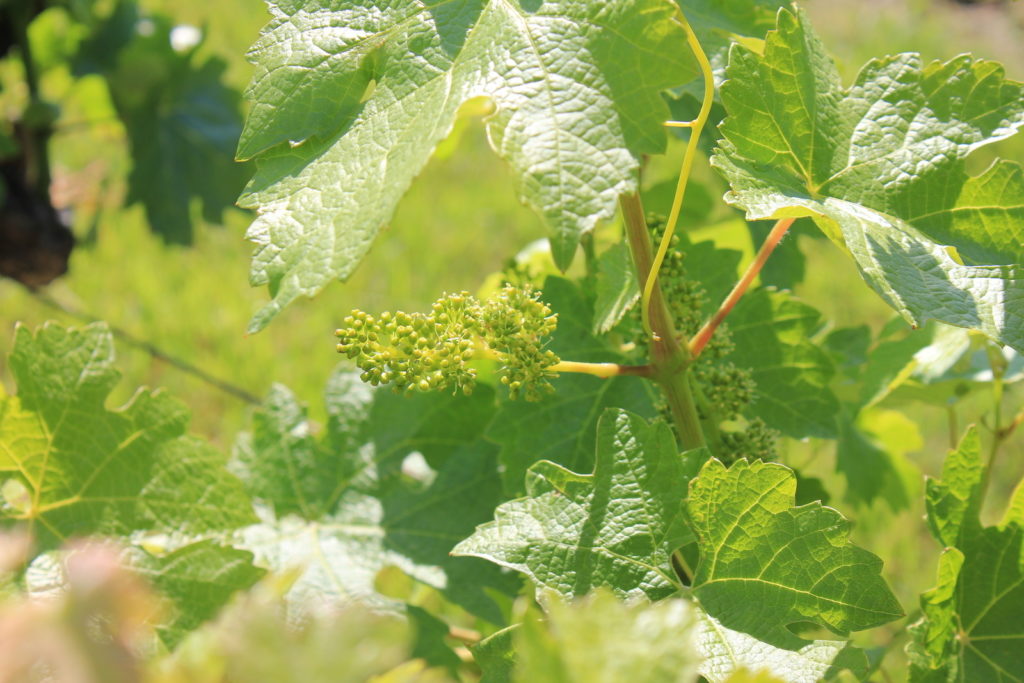 The building is a hotel, a restaurant and also a spa (Caudalie). Surrounded by vineyards, it's an oasis of flavors.