Grey, champagne, rosé, pink, orange yellow, purple, peony, cherry, raspberry, carmine, salmon pink, red, orange, claret, onion skin, soft corn, salmon, apricot, prune, reddish… Here are some words characterising the color of a particular type of wine… The Rosé wine. Summer tables friends, ideal with grillings, 'gourmand' with a pizza or salad, delicious with a strawberry soup… This is the wine synonymous of freshness and fruit. Major in front of a sunset and indispensable under a pergola… Brief the Rosé, it's top !
---
"Transplant a rose plant on a vine plant, you will get natural rosé wine"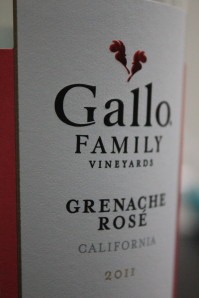 I have to confess, I'm not really a huge fan of rosé wines… It's nice but even in summer with a grilling, I prefer to drink red wine… But well, I admit the seductive aspect of rosé wines. When it's well-done, rosé wines can be delicious and have some nice surprises like subtle aromas and complexity. Then, today, I'm gonna talk about a rosé wine made in USA from the famous Gallo Family Vineyard. Well yes, when you drink this wine you are flung on a Californian beach, you have a little bit of salt on your lips, blond hair and you can hear a Beach Boys tune… But there is also an interesting fruity component and a huge stupefaction : it's a sweet rosé wine !
Gallo Family Winery is a monster : more than 500 medals in international contests, a wide range of wines for everybody and especially a 80 years birthday this year. The two brothers, Ernest et Julio Gallo, have created the firm in 1933 in Modesto in California with a goal :to keep a powerful and sustainable vineyard with affordable wines gustatively and pricely. Challenge accepted and realized : Gallo Vineyard is the biggest family wine estate of the world ! In more than 90 countries, it's the first exporter of Californian wines. It represents (in 1990′) 25% of the wine American market.
Besides its will to offer quality wines, the winery wants, like a lot of American firms, to show its good behavior. The proof on the website with : 'diversity' (hiring people from every where), 'environment' (ISO 1400s1) and 'community' (participating to charitable foundations…).
– Grenache Rosé, Familly Gallo Vineyards, 2011 (100% Grenache).
Nice salmon pink color, limpid and intense. The nose is nice, fresh and fruity with orange and strawberry notes. The mouth is quite big and the sugar surprised me… What ? A sweet rosé ? But what's that ?? Hum nobody tells me ! Yes, but it's interesting and it's enhancing the watermelon and strawberry flavors. There is stuff, it's not a watery rosé, the finish is quite long but the sugar gives consistency. Nice, sweet, fruity and fresh… Perfect with a pizza or a Caesar salad if you like salty-sweet… Interesting with a strawberry soup or fresh fruits… You have to taste it for a tagada summer !
You have to count 5 euros for a bottle