There are some Châteaux which are a daydream: the building is an invitation to travel, the atmosphere is full of an adventure and exotic perfume. It's my feeling about the Château Cos d'Estournel. The property is in a bend… We know that we are on exceptional lands because you just passed in front of Château Lafite Rothschild. On a mound, the estate appears and we have the impression that we have crossed a border to an oriental country… So we accept to climb on a flying carpet to discover an outstanding property. We are amazed by the pagodas coming from a Zanzibar sultan palace which are sitting on the top of the cellars, we are listening to the bells which are jingling in the Medoc wind, we admire the starry gardens and we are getting lost in the one thousand and one nights India. We are almost waiting for young ladies in sari to welcome us and we won't be astonished to see elephants bathing in the ponds… But we come back to reality because this Château is not mirage, it is well and truly here… Château Cos d'Estournel has got a reputation to hold, Second Grand Cru Classé since 1855, it is considered as the best Saint Estèphe.
---
"Always the wine smells its terroir"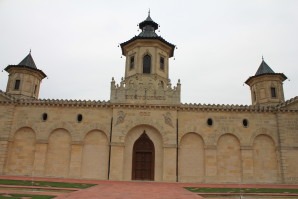 Louis-Gaspard D'Estournel was born in 1762 under the reign of Louis XV. This incredible man had an only one love during his long life : Cos. It's the story of a passion, of a fusion between flesh, land and vine. Madly in love with his property, he will do everything to make it known. In 1811, we understood that he has a treasure and he will buy successively the land around to finally become the owner of the entire mount. The first wines of Cos will be sold in India… The Maharajahs and Nababs will have this powerful and spicy wine on their tables. To celebrate his success abroad, the Marquis d'Estournel, also called the Maharajah of Saint Estèphe, will organize banquets and incredible parties on his property. He will also offer Cos bottles 'Coming back from India' to the England court and to the Tsar of all Russia (Louis-Gaspard will inspire the experiment of underwater aging at Château Larrivet Haut-Brion, you can read my article about it). Ultimate privilege, Emperor Napoleon III will be a faithful amateur of Cos and will even have thousands of Cos bottles at the Tuileries. Cos d'Estournel is a symbol of opening, travel and talent…. Stendhal, Jules Verne or Karl Marx were part of the fans.
But sometimes, love is blindness, love drives you crazy, love makes you lose your mind and reality. Louis-Gaspard lived beyond his means, embellished his Château and expanded it… But he will be obliged, face to the debts, to sell his treasure in 1852 to a Londoner banker: Martyns. In front of Louis-Gaspard passion, this banker will let him stay on his lands until he died the next year in 1853 at the age of 91 ! So, Louis-Gaspard will never know the consecration: in 1855, Cos d'Estournel becomes a Second Grand Cru Classé, at the head of all Saint-Estèphe.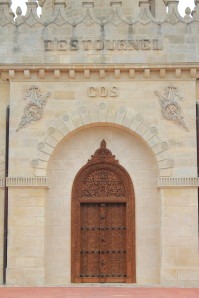 Cos D'Estournel will know several owners who will find this Château incredible. No one will transform the atmosphere. In 1917, Fernand Ginestet becomes the owner of Cos. He is really famous to be a big merchant and will stay at the head of the Château during long years. His grandsons Jean-Marie, Yves and Bruno Prats will inherited. In 1978, Ginestet is part of the Taillan Group (Chasse-Spleen, Gruaud Larose…).
Since 2000, the Château Cos D'Estournel is owned by an exceptional man who continues the Louis-Gaspard work : Michel Reybier. Man of Terroir, he has been the owner of famous french brands like Aoste, Justin Bridou or Cochonou (there are brands of sausage, different type of terroir). He renovated the property in 2006 and called two architects who will marry their incredible works.
Jean-Michel Wilmotte (Musée d'Orsay, Musée du Louvre, Chaumet Japan, Cartier Japan…) is the architect in charge of the cellars: between iron and glass, he will create a world apart, a unique cellar in the world because entirely by gravity. So with 3 floors, the grapes will progressively stroll in electrical trolleys, become wine in 72 isotherm and truncated cone vats (a study in 2004 has been done et separate 72 lots on the 91 hectares of the property), travel through 4 elevator-vats and age 18 months in barrels… The bottling will be done naturally on the property and an average of 200 000 to 380 000 bottles will go out each year. Jacques Garcia (Fouquet's, Hôtel Majectic, Hôtel Costes or even Hôtel The Régent in Bordeaux), as for it, is the architect of the building: he will respect the vision of the creator and will even bring back from India the pink pavements that amazed visitors are walking on.
The stone elephants welcomed us and we visited the Château under a small rain. The sculpted doors opened and we entered in an unknown universe: dream became reality. We are in Ali Baba cave. In the majestic hall, I wasn't expecting this. The design is wonderful, the welcome is nice and pro, the visit is interesting.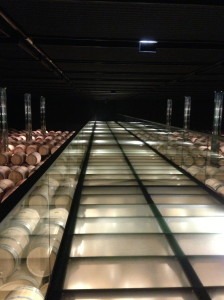 Really impressive: the underground cellar with its floodlit glass and iron footbridge… We had the impression to cross a space-time, the atmosphere is hushed and the cellar's smell is nice. At the end of the footbridge, the private cellar of the Château with old vintages. It happens that Cos opens some old bottles (post 1950) during huge events on the property.
The tasting took place in the main hall. The spittoons are quite funny: there are looking like watering place.Nice attention: a paper with a pencil is on the table with a little fascicle about the Château. Two wines for this tasting : the Pagodes of Cos, the second wine of the Château and the grand cru, Château Cos D'Estournel.
– Les Pagodes de Cos, Saint Estèphe 2008 (65% Merlot, 34% Cabernet Sauvignon and 1% Petit Verdot).
With a nice raspberry ruby, the color is shiny with a nice intensity. The first note is fresh and delicate with woody notes and nice prune. A little bit of Tolu balm, the second nose confirms the 'gourmandise'… Strawberry, raspberry marmalade, aromatic black grape, it's a fruits festival coming with leather and sweet spices. The mouth is fresh and intense. Still fruity with strawberry, raspberry, cherry and blackberry notes. Well-structured and tannic, this wine is wide and alive. The finish is warm on prune, long and nice. It's a complex wine but bright and precise. Nice.
You have to count 45 euros per bottle at the property
– Château Cos D'Estournel, 2nd Grand Cru Classé since 1855, Saint Estèphe 2008 (85% Cabernet Sauvignon, 13% Merlot and 2% Cabernet Franc).
The robe is as a deep red ruby with a nice intensity. Bright and limpid, this wine is glittering. The first nose is discreet and gourmand. Cocoa, vanilla, raisin cookie and a little bit of roasted coffee, it's powerful, it's clear, it's impressive. The second nose is also very aromatic (though it's a 2005, it's young) with light exotic wood and roasting notes. Prune, fresh blackberry are melting with sweet spices (cinnamon, liquorice and pepper). The tasting is fresh and sugary. Straight and wide, we can feel a bright aromatic power, complexity and a huge finesse. It's an iron fist in a velvet glove… The flavors of liquorice are getting married with blackberry and blackcurrant. The wedding is perfect with cocoa as witness. Flexible, elastic in the mouth, the finish is incredibly long on blackberry and liquorice. Certainly one of the most extraordinary wine I've ever drank, a crush for the property and for the wine… But 2008 is not an amazing vintage (2009 is incredible and you have to pay for 300 euros to have the luck to be the owner of a bottle), however 2008 is a nice year.
You have to count 150 euros per bottle at the property